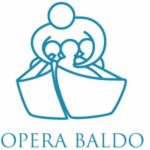 Domus Clugiae, located in the heart of Chioggia, is managed by a social cooperative which help disadvantaged people.
We have a long educational experience during which we learnt to enhances the value and the dignity of each person we helped.
Our role model is Carmen Baldo, a woman who lived in Chioggia until the 70s and tirelessly took care of many abandoned children, giving them the chance to hope in a better future.
Domus Clugiae shares the educational attitude of Opera Baldo, that's why we chose to display here and there the logo of Carmen on her boat, surrounded by some of the many children she helped.
Chioggia is a seaside town, open to its own community, devoted to hard work, fishing and in commerce.
Our city has ancient roots. You can feel the courage and the passion of the people but also their hospitality and openness.
We thank you for choosing Domus Clugiae. Your stay makes you part of our educational purpose.